Culture Zohn : Roman Holiday Meets "La Dolce Vita" American Academy Style
Patricia Zohn, HuffPost
June 13, 2008
Culture Zohn : Roman Holiday Meets "La Dolce Vita" American Academy Style
We all have a fantasy about taking off for six months or a year, getting away from the grind in order to have the time to muse and contemplate. We know we would be the better for it, our ideas sharper, our vision about our work clearer. We might even finish the thing we had started and put away in the drawer or begin the thing we had made notes on or sketches for and put away in the drawer, the famous drawer that like the Bocca della verita threatens to suck up whatever lies are put inside its cold, imposing mouth.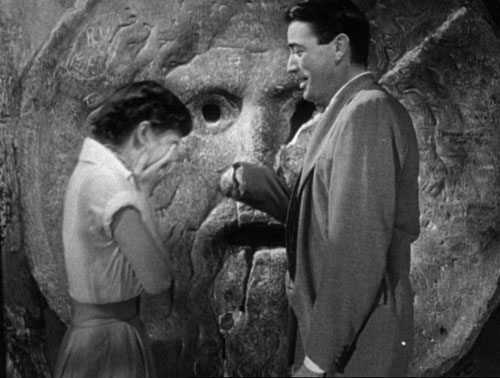 Cropped screenshot of Audrey Hepburn and Gregory Peck from the trailer for the film Roman Holiday.
Most of us, alas, have not had the chance to do that.
Some very lucky, very talented people do, however. Though there are writers and artists colonies of all stripes, there could be none more achingly beautiful or more intellectually dynamic than the American Academy in Rome. Long a secret of architects and designers who were annointed early on in their careers with fellowships and who come back to occasionally to refuel, the Academy is gradually widening its net, this year including an engineer and a dancer and those of us who can only afford a month or a few months, yet want somehow to stop the world so we can get off.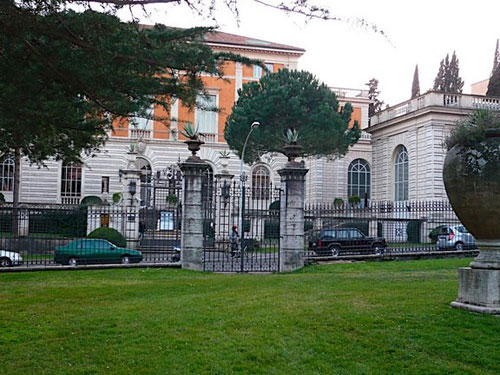 The front of the American Academy In Rome. Photo credit Jennie Prebor.
As far back as 1666 when the French established their Academy in Rome, the city has been serving as a tutorial in all things classical, when the Grand Tour stop in Italy was the Alpha and the Omega of culture; if you walk near the Mussolini-style Galleria Nazionale d'Arte Moderna or the Villa Giulia designed by Vignola, you can see the enormous Academy buildings from many nations in all their faded splendor.

None come close to the splendor of the American Academy, founded in the early twentieth century and its magnificently restored Villa Aurelia.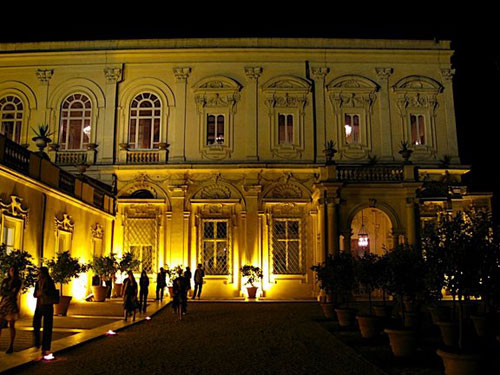 Villa Aurelia at night. Photo credit Jennie Prebor.
The fellowships given each year are hotly contested and with good reason; you only have to spend an afternoon or a lunch at the long refectory tables dining on Alice Waters inflected cuisine or spend a hushed moment in one of the multi-storied windowed studios or take a walk in the sublime gardens or grab a Campari or espresso at the Bar to know that you have achieved paradise.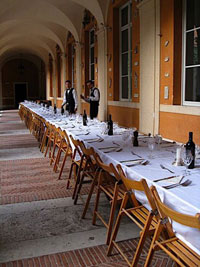 Photo credit Jennie Prebor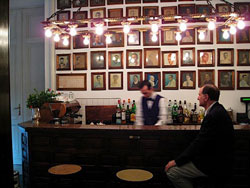 Bar at American Academy, Frederick Fisher, Rome Prize Fellow in Architecture - Photo credit Jennie Prebor
As some of the fellows reveal sotto voce, then you have the trouble of actually doing what you said you would in the proposal and concentrate waiting for the distractions of la citta eterna to wear off - but the magic does not seem to fade. Accordingly, a few fellows candidly admitted that they were still struggling to pull focus and produce work that fulfilled their own, and others, high expectations.
But as you sit amongst them or follow them through the city, you see how very special they indeed are. This year, Molissa Fenley, the first dancer-choreographer fellow had the primo studio at the Villa Cortile and invited Roman dancers to work with her on a new piece to the music of John Cage. What a delight it was to sit against the wall and share the fruits of her labors with her. John Ochsendorf led a tour of invited guests through Trajan's markets. Ochsendorf, the first engineer to be awarded a slot hails from MIT and had his first baby at the Academy earlier this year. His genial but brilliant talk galvanized chatter even amongst Pritzker-prize winning architects and well-heeled trustees in the group.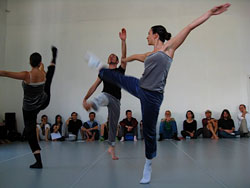 Molissa Fenley's dance studio.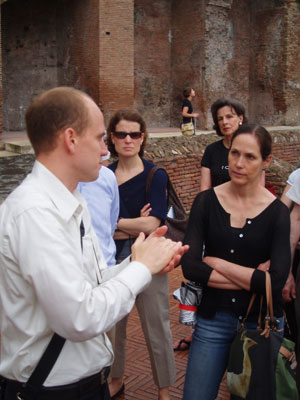 Jon Ochsendorf, 2008 National Endowment for the Arts Rome Prize Fellow, American Academy in Rome - Leading a tour of the Markets of Trajan
Christina Ferando, a self-identified "TA" from Columbia University in the Art History Department had twenty of us in her pocket as she shared highlights of the Villa Borghese collections and their special exhibition on Coreggio. Ferando is a Canova scholar, but that didn't matter - her insights into all the work made for an afternoon that had us savoring her every word.


Venere ed Amore con un favo di miele - Lucas Cranach, Galleria Borghese
It turns out, of course, that much of the great art in this museum and in many others in Rome was inspired by love and desire, despite the omnipresence of the Popes. Two Coreggios, a Danae and especially Jupiter and Io held us in one room for much longer than planned.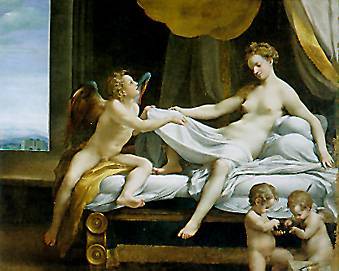 Danae - Antonio Allegri detto il Correggio, Galleria Borghese
Ferando reminded us of the charming mythology behind them, for example, that only gold tips on Cupid's arrows can really make for true love. Jupiter hides his love affair with Io, and the cloud that descends around her, (obscuring her eventual fate of being turned into a cow), is as sensuous as any pair of arms would be. An adjacent Cranach high up on the wall of a nude Venus (seeing the real stuff makes the John Currins look tame) warned if you seek out the sweet pleasures of life you will get stung.
A Bernini sculpture from 1621 of Pluto carrying a crying Persephone into the underworld, his fingers digging into her behind is as passionate an evocation of lust as one could imagine.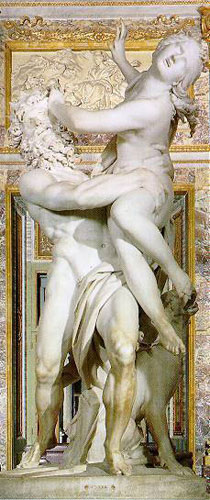 Pluto and Proserpina - Gian Lorenzo Bernini, Galleria Borghese
His Dafne transforming into a tree a most eloquent comment on that myth which could be a potent symbol of the green of love. Ferando made it all come alive as only the best minds can, free of pedantry, filled with allegory and wit.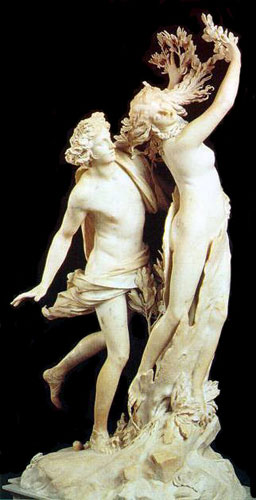 Apollo and Daphne - Gian Lorenzo Bernini, Galleria Borghese
And then there is Rome from which to cherry pick . Re-seeing my two favorite films about the city had already been instructive; Fellini's sexy men and women of La Dolce Vita came alive at the Academy when the local Roman contingency trooped in late but welcome to spice up the dinner honoring Franco Zeffirelli.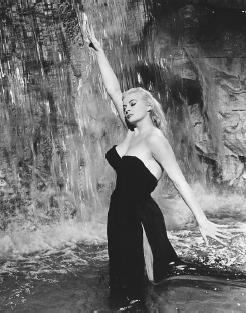 Anita Ekberg, B&W Screenshot from La Dolce Vita, Source: www.filmreference.com
And you don't have to be a journalist to have a Roman Holiday fantasy of a princess (or prince) wanting to hop onto a Vespa with you and ride off into the night.
Some sites in Rome (aside from the obvious) which are more fully discussed in the excellent, selective, very portable guidebook from the City Secrets series filled with good suggestions by former Fellows:
In the Quirinale neighborhood, where I was lucky enough to stay, one found quiet spaces set against the imposing presidential palace. I wandered into the Bernini churches, Santa Andrea Al Quirinale and Santa Maria Della Vittoria, crossed the busy intersection of the San Carlo four fountains by Borromini on my way to the Gallery at the Palazzo Barberini, a joint effort of those artists, in which open windows flap against famous paintings, among them, my favorite Roman painting of La Fornarina, (or the Baker's daughter) by Raffaello, purportedly his mistress whom he arm-banded in the painting with his name;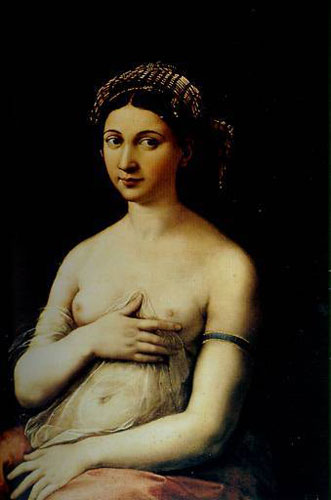 La Fornarina - Rafaello Sanzio, Galleria Borghese
Off the main drag, the Via del Corso, and within walking distance of the Piazza del Popolo, the site of the Princess Anne's (of Wyler's Roman Holiday), first stop at a café, the churches of Santa Maria del Popolo, San Luigi dei Francesi and Santa Agostino with their Caravaggios; the Palazzo Doria Pamphili, a splendid palace untouched by time where the heir who still lives in the back (you can see his Audi parked) has done an acousticguide tour that tells the history of his ancestors' collections and their intrigues, especially of La Papessa who was the woman behind the Pope; the Palazzo Venezia which housed the dramatic installation of Sebastiano del Piombo, and the Palazzo Ruspoli which has a fascinating historical exhibition of Rome.
Further toward the center, not far from the Piazza Navona, the Palazzo Altemps a former home to a Cardinal with its juxtaposition of freschi and perfectly installed Greek and Roman art (how is it that the Italians can complain about art looting when they themselves acquired so much in the very same fashion?); the Museo Barracco, another small palazzo with sculptures of Athenas and Cupids and sexy female attendants on sarcophagi which make the heart beat fast, and the Pantheon and Sant Ivo church, two domed, light-filled wondrous spaces.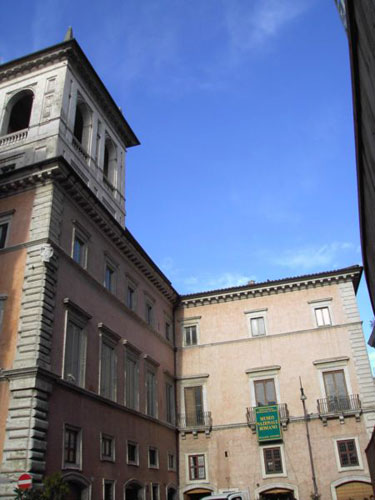 Palazo Altemps
Rome was looking and feeling spectacular especially from my rooftop aerie where a 360 view of the city was miraculously on offer. It's not as pristine as Paris and its center is filled with tourists but the people are welcoming (a nun and two priests were my best ad hoc guides) and one can be creative with busses and food so as not to be gouged by the Euro.
While we are all awaiting our renaissance as classical scholars and cutting edge designers, there is something we can do; a group of Friends of the Academy exists to allow mere mortals some access into the hallowed and inviting spaces. One long-time trustee self described as someone who worked carpe per diem and got a big laugh from those honoring him, but his wit reveals the harsh reality of most of our lives: we want to live for today and suck up all the good stuff, but most of us have to earn our keep and can't take the time to do it. (Suddenly, your mother's advice about becoming a teacher or better yet a professor so you could have a sabbaticals comes back to haunt you!)
But if we think about breaking away (studies show this is imperative) not necessarily in huge chunks but in bits and pieces that we cobble together perhaps we can sip from the same cup that makes the American Academy work. All roads may not lead to the Academy, but my short stay mingling with the Fellows convinced me we must seek their equivalent benefits out in haste.
I like to think that Rome brought out both sides of my personality: the pent-up Audrey who cannot waste a minute of the imaginary day she constructs when she runs away and the bon vivant Anita who jumps willy nilly into the Fontana di Trevi.
When asked at the long-awaited press conference which city on her tour she has preferred after she has gone AWOL with journalist Joe Bradley (Gregory Peck), the Princess Anne (Audrey Hepburn) starts to say they have all had their charms and then catches herself and looks longingly and lovingly at him.
"Rome," she says.
I know just how she feels.
https://www.huffpost.com/entry/emculture-zohnem-roman-ho_b_106544
The Broad
May 27-June 27, 2023
Click here for details
Yaddo
July 6 - August 1, 2023
Click here for details
University of Massachusetts Fine Arts Center youtube channel
August 26-September 30, 2023
Click here for details
Join Our Mailing List